I got October's Interview magazine in the mail today complete with a Maggie Grace article and pictures, so I scanned them for everyone. I normally don't scan anything in Interview because the paper it's printed on doesn't not like to be scanned, but here they are:

Full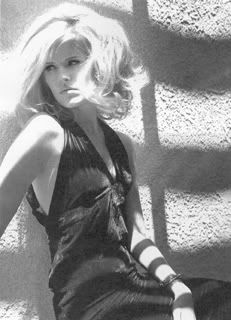 Full

And short article too if anyone is interested:

Maggie Grace by Leslie Cafferty
From hot cult hit to this season's clammy cult film

Her hit series Lost maybe filmed in Hawaii, but actress Maggie Grace, who plays spoiled rich girl Shannon Rutherford on the show, is far from desert island-bound.

This month, the 22-year-old Columbus, Ohio, native will leap from sunny paradise to shadowy suburbia, starring opposite Tom Welling and Selma Blair in director Rupert Wainwright's update of John Carpenter's The Fog (1980), about a ghost-filled mist infesting a sleep seaside village. "Carpenter made the original for less than a million dollars and had only two little fog machines, so it's sort of a holy grail for indie filmmakers," says Grace.

Although Lost and The Fog takeplace in decidedly different melieux, Grace discovered while attending a comic convention that they have one thing in common -- rapid fans. "It was overwhelming," she says. "Now I know what it means to be a rock star."