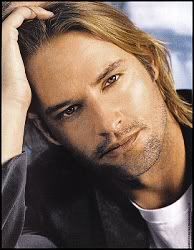 ETA:


The caption for the picture:
"The sexiest thing about Josh is his dimples. He's just got such a beautiful, genuine smile - it shines from inside out. Because he plays a bad boy on the show, people assume that's how he really is. But Josh is the warmest-hearted guy and he's so chivalrous. He will always carry a bag for a girl or open the door for her, and it's a really, really attractive quality. In so many ways he's a good, old-fashioned Southern man. I think that Sawyer has a very big and vulnerable heart, and I think Josh does, too." - Evangeline Lilly


This is from the TVGuide I got in the mail today. He's one of "TV's Hottest Guys" and he's one of the six covers (but not the one I got; I'm still trying to find it). My scanner's not that great, but I hadn't seen any other scans yet so... there ya go.