11 October 2005 @ 01:15 am
2005 Comic Convention in Los Angeles
[
Source; More
]
11 October 2005 @ 04:23 pm
Malcolm David Kelley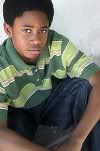 The biggest pimp on Lost!

Click for more
11 October 2005 @ 04:58 pm
LMAO!


This is hilarious!

Click for more
11 October 2005 @ 06:04 pm
Jack & Kate
From Séries Mag.
Current Mood:
good
11 October 2005 @ 06:13 pm
My mom got her TVGuide this afternoon and just emailed me the scans of the article "Lost: Burning Questions." Thought I would share.
MINOR SPOILERS FOR EPISODES ON OCT. 12 AND OCT. 19 AND THE REST OF THE SEASON
tada! warning!
(
TV Guide article; +3
Collapse
)